5 Best Apartment Doorbells for Renters
Renting an apartment comes with a ton of rental woes. One of those includes avoiding any alterations or damage to walls, door frames, and floors.
But if you have a faulty doorbell or want something that provides a few more features than simple ringing, you might want to buy a new device to replace the existing bell.
But what options do renters have when it comes to replacing a doorbell?
Fortunately, there are a lot of wireless and smart doorbells perfect for renters.
These don't need to hook into the existing doorbell wiring, have different sounds and volumes, and most only take a few minutes to set up.
So, if you're thinking about purchasing a new doorbell for your apartment, keep reading to learn which ring doorbell is best for apartments.
What are the best apartment doorbells for renters?
The best apartment doorbells for renters are the Ring and the Blink Video Doorbells and the Wireless doorbells made by SadoTech, Avantek, and Secrui. These offer a wide range of features at different price points to meet any apartment renter's security needs.
After extensive research, we've narrowed down our wireless doorbell picks to five great options. Here's what we found.
Ring has been a respected wireless doorbell brand for some time now, so if you've found yourself wondering which Ring doorbell is best for apartments, we have your answer.
Ring's Video Doorbell is a high-quality choice for renters in any house or apartment.
The Ring Video Doorbell has a 1080p HD video that lets you see and hear who's ringing your bell from the comfort of your phone, tablet, or computer.
It easily connects to your in-home wifi through the Ring app.
One of the best improvements to the newest Ring model is its updated motion-detecting technology, sharper night vision, and audio privacy.
Additionally, you can receive mobile notifications when someone rings the bell or triggers the motion sensors.
The main downside to the Ring is that its range is entirely dependent on your wifi signal.
So, if your wifi doesn't reach your front gate, you won't be able to mount your bell there.
However, a bonus is that you can pair your bell with any Alexa devices you own to enable in-home monitoring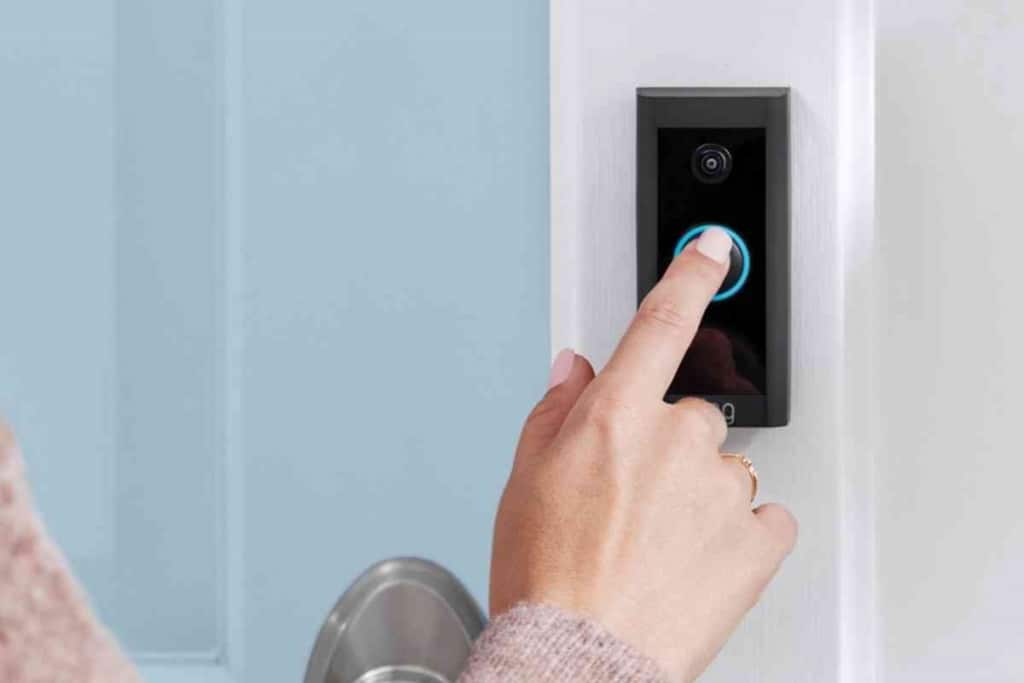 Pros
1080p video camera
Motion detector
Rechargeable battery
Pairs with Alexa
Cons
Blink is another well-known company that produces high-quality products.
The Blink Video Doorbell is no exception.
With its HD video, motion detection, and infrared night vision, this bell gives you a clear view of your front door at all times.
The Blink doorbell comes with the batteries in the box, so all you'll have to do is connect it to the Blink app, and you'll be set to go.
You can integrate the doorbell with existing doorbell wiring, but the wire-free option will be best if you're renting.
In addition to the convenience of an app, the Blink doorbell is also Alexa-compatible.
This gives you more flexibility in how you can monitor your door and communicate with your guests or housemates.
Pros
Great price
Wired and wire-free versions
HD camera
Cons
Subscription required to save video
SadoTech Wireless Doorbell
B00J4FHOB0
If you want a wireless doorbell that reflects your personal style, the SadoTech Wireless Doorbell will be right up your alley.
It comes in several colors and offers more than 50 chime sounds.
What's more, you can program multiple bells to play different tones.
The SadoTech bell has an extended range of 1,000 feet, so it's great for larger rentals or properties. It also has flashing LED lights that light up when someone presses the bell.
This makes it a great option if you have light nappers or barking dogs.
Although the SadoTech doorbell doesn't come pre-paired, it only takes a few minutes to set up.
In addition, it comes with everything you need to get it up and running quickly, so you won't have to buy any extra equipment.
Pros
Several colors
Long battery life
1,000-foot range
Cons
Avantek D-38 Wireless Doorbell
B01N06FC8R
The AVANTEK wireless doorbell is a sleek, energy-efficient wireless doorbell that offers one of the longest ranges in a wireless bell.
With a range of 1,300 feet, this bell is excellent for larger homes or properties.
Plus, it comes with two installation methods, so you won't have to worry about damaging the door frame.
This bell is fully customizable.
It offers 52 chimes to choose from and a 40mm speaker that alerts you with crystal-clear tones.
There is also a flashing LED, so if you need peace and quiet in your home, you won't have to worry about your doorbell breaking the silence.
The AVANTEK is great for outdoor installations.
It sets up in just a few minutes and is completely dust- and water-resistant.
So, whether you live in desert conditions or deal with daily downpours, this bell will hold up to anything.
Pros
Flashing LED
1,300-foot range
Waterproof and dustproof
Cons
Doesn't work well in metal buildings
Secrui Wireless Doorbell
B07M68S376
The Secrui Wireless Doorbell is a compact, easy-to-use wireless doorbell that installs in a snap.
It comes already paired, so all you'll need to do is hang it up, and you'll be all set.
Better still, it's made of high-quality, weather-resistant materials that hold up to extreme temperatures.
Adding to its practicality is that the doorbell works long-distance.
It has high-frequency technology that operates on an FM signal and holds a connection up to 1,000 feet.
Since FM is excellent at resisting interference, you won't have to worry about your bell connecting to your neighbor's.
A newly-added feature to this version is a larger selection of tones.
Now, you have the option for 58 different songs with five volume levels, including mute.
Pros
Works right out of the box
Runs on an FM signal
58 songs and five volume levels
Cons
The button is hard to see in the dark
Why Do You Need Your Own Doorbell?
The main reason you might want to purchase a smart doorbell is that they don't require you to damage the existing wall, door, or door frame to install.
When you live in an apartment, that can cause you to lose all or part of your security deposit.
The other advantage to using wireless doorbells is that you can take yours with you when you move out.
You can install a doorbell using adhesive, then simply pop it off the wall when your lease is up and reinstall it at your new place.
What to Look for When Buying an Apartment Doorbell
Not all wireless doorbells are created equally.
Some have more advanced features, while others are pretty basic.
Depending on your needs, there are some things you should consider when choosing which doorbell will work best in your apartment.
Connectivity
Wireless doorbells operate on various connections.
Some use your home's existing WiFi, while others work on an FM signal.
Although WiFi might sound like the best, it has its drawbacks.
Whereas FM is difficult to interrupt and has a long-range, your WiFi is susceptible to disruptions. These can include storms, power outages, and service outages that can leave your bell useless.
That said, WiFi has plenty of advantages.
Among them is the ability to record video, two-way communication, and app connectivity.
Camera Resolution
Not all smart doorbells have cameras, but if you choose one that does, you want to get one that has high resolution.
Since the cameras are relatively small, a higher resolution will let you see clearer images and a greater distance.
480p is the standard, but if you want really high quality, 1080p is the way to go.
Range
Wireless doorbells each come with their own signal range.
WiFi doorbells typically have a shorter range. This is because their connection is dependent on how strong your signal is.
In other words, your router will need to be relatively close to your doorbell for your bell to function.
Other bells have ranges that can reach more than 1,000 feet.
A longer-range bell will be ideal if you're renting a large home.
Cost
Wireless doorbells can range quite a bit in price.
You can pick up a basic doorbell for less than $20, while a high-end camera could cost you several hundred.
So if you want all the bells and whistles, be prepared to shell out a hefty sum.
However, many fall in the mid-price range and can give you everything you need.
Mounting
Although most smart doorbells don't require any wired mounting, some might come with screws for installation.
Fortunately, there are a lot of choices that feature adhesive mounting, but that's not the case for all.
When choosing a bell, make sure you find one that you can mount without screws.
In Conclusion
When you rent an apartment, the last thing you want to do is cause any damage.
However, you might want a bit of extra security or a doorbell that offers a bit more in terms of options.
So, which ring doorbell is best for apartments?
Any listed here will give you a flexible tool you can pack up and take with you when you move.
Best of all, they'll give you the benefit of convenience.