Blink Indoor vs. Outdoor Cameras: What's The difference?
Blink cameras are excellent choices when you need a security system installed in and out of your home. Comparing the brand's indoor and outdoor systems can help you make an educated decision on whether you need one or the other or even both. If you're on the fence and are leaning toward purchasing one, it's important to compare the Blink Indoor versus Blink Outdoor cameras to see the difference.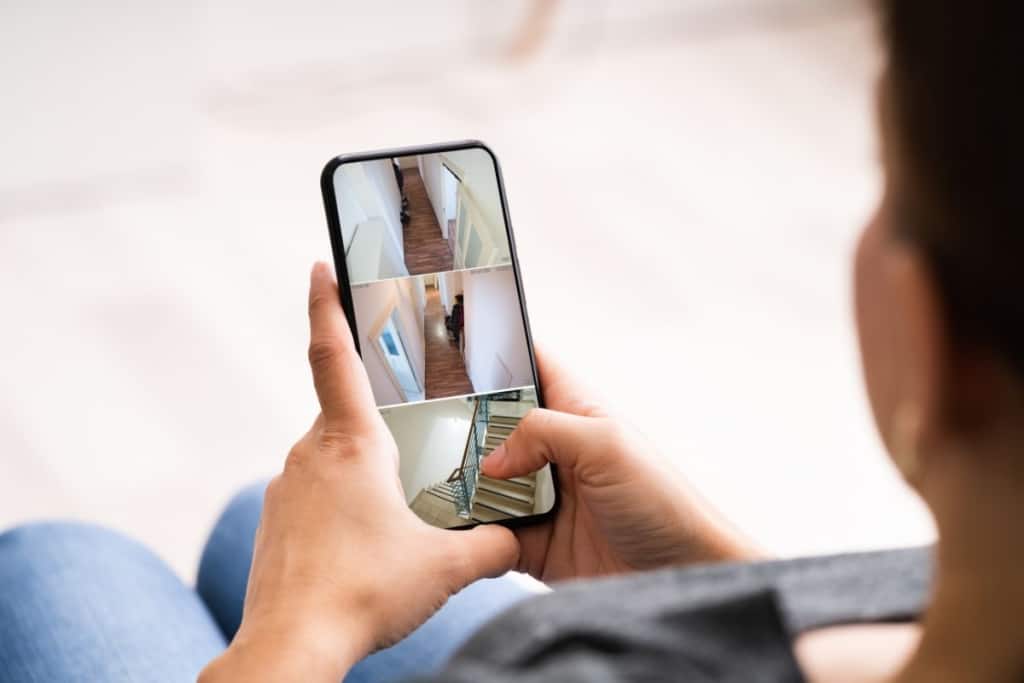 Table of Contents
What's the Difference Between the Blink Indoor and Blink Outdoor Cameras?
The main difference between Blink Indoor and Outdoor cameras is that the Outdoor is better equipped to withstand all aspects of the outdoors. This includes higher temperatures during the summer, colder temperatures during the winter, and wet weather conditions such as rain and snow. It also comes with an IP65 rating, making it water-resistant.
In terms of the temperatures the two Blink camera models can endure, the Blink Outdoor is designed to withstand up to 113 degrees Fahrenheit. Meanwhile, the Blink Indoor camera is only meant to work in temperatures as high as 95 degrees Fahrenheit.
Aside from the water resistance and temperature ratings, the Blink Indoor and Blink Outdoor cameras are nearly the same.
The housing around each camera is slightly different thanks to the Outdoor having the IP65 feature. That model has a grille for the speaker above the mounting bracket while the Indoor camera model has air holes around its edging.
The exterior of the Blink Outdoor camera makes it more durable to withstand dirt, water, and other debris from getting inside and causing damage. The Blink Indoor camera has no need for such a protective grille as it can only be used indoors.
Your Blink security camera system offers video in HD quality with a battery life that lasts two years. Both the Blink Indoor and Blink Outdoor are compact and affordable.
Can the Blink Outdoor Camera Be Used Indoors?
Because the Blink Indoor camera lacks certain protective features that the Outdoor model has, it can only be used indoors. However, you might wonder whether you can use the Blink Outdoor camera inside your home.
You can use the Blink Outdoor indoors just as you would use the Indoor model.
Both cameras have all the same software features, so there is really no difference when using the Blink Outdoor model inside your home.
The Blink Indoor camera is encased in white while the Outdoor model is black. Black makes more logical sense as it's more difficult to detect when placed outside. However, this could make it much easier to see if you were to use it inside your home.
What Features Do the Blink Indoor and Blink Outdoor Cameras Share?
The Blink Indoor and Blink Outdoor cameras share many features. Both are equipped with infrared hardware detection and adjustable sensitivity with a range spanning six to 20 feet.
They both have zoom functionality in the camera if you need to get a better, more close-up image of something or someone.
Both the Blink Indoor and Blink Outdoor include 2.4 GHz Wi-Fi, a built-in microphone, and a speaker.
The two cameras have blue LED lights indicating an Internet connection and recording ability, which can be disabled in the settings. A red LED is also found to alert the user if there is a system error or no Internet connection.
The Blink Indoor and Outdoor camera models are both powered by the same AA 1.5v Lithium non-rechargeable batteries and have a lower battery indicator. Battery life can last for up to two years when the cameras are used in standard means.
Both Blink camera models have identical dimensions and weights. With batteries, they weigh 4 ounces. The cameras each come with a mounting stand and two number 6 Phillips head screws measuring 1 1/4 inches.
Interestingly, the prices of the two Blink security cameras are different. The Blink Indoor model is $80 while the Blink Outdoor model sells for $100.
Regardless of the price difference, they are both highly affordable and offer a good array of features to satisfy you if you're in the market for a home security camera for either outdoors, indoors, or both.
Another notable feature that you can enjoy with the Blink Indoor camera and Blink Outdoor camera is that they are integrated with Amazon's Alexa voice feature. If you need to change the settings on your camera, all you have to do is summon Alexa and say what you want.
Are the Blink Indoor and Blink Outdoor Cameras Hard to Install?
Whether you buy the Blink Indoor or Blink Outdoor camera or choose to buy both of them, you shouldn't have any difficulty installing them. They are simple to install thanks to the lack of plugs and wires.
You can install them anywhere you please and won't have to worry about them being too visible to passersby or trespassers who might step onto your property.
You can even hide your Blink Indoor or Blink Outdoor camera thanks to their tiny size. Indoors, you can put them in an obscure spot up high to capture what might be going on inside your home when you're out or during the night while you're asleep.
Outdoors, you can hide them somewhere on the exterior of your garage or even in a tree or shrub if you want to hide them.
The Blink Indoor and Outdoor cameras have very few notable differences mostly relevant to the weather and temperature conditions.
For the best value for your money, if you're set on getting a security camera to check what might be going on inside or outside your home, you would be better off going with the Blink Outdoor camera. The Blink Indoor model is just as good for indoors, but remember that it can only be used inside.