Can Someone Connect To My AirPods Without Me Knowing?
This post may contain affiliate links. As an Amazon affiliate, I earn from qualifying purchases.
Apple's AirPods are wireless Bluetooth earbuds. Apple's low-cost wireless headphones are available alongside the AirPods Pro and AirPods Max. Whenever AirPods are connected to devices that can pair with Bluetooth, including Windows laptops and most Android devices, they can function as standard Bluetooth headphones. However, certain features, such as automatic device switching, are only available on Apple devices via iCloud.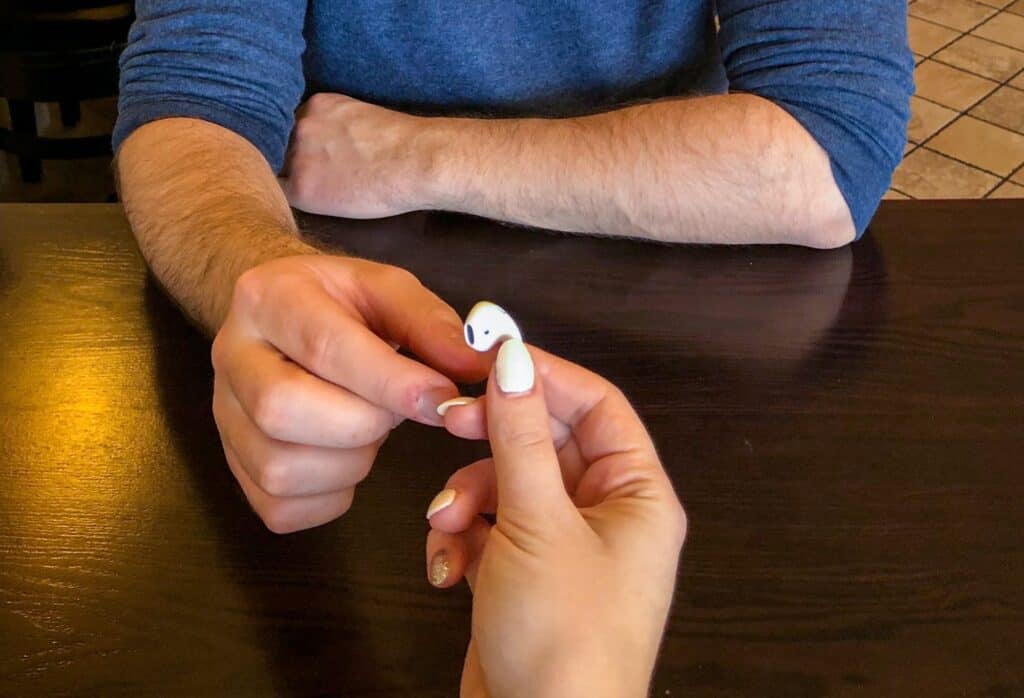 Don't miss out on the ultimate audio experience; discover the simple 3-step guide to seamlessly connecting your AirPods to a Fire TV Stick for a riveting, wireless entertainment adventure!
Can Someone Connect To My AirPods Without Me Knowing?
So, can someone connect to my AirPods without me knowing? Yes, it is possible to use another person's AirPods. The problem you'll have to solve is pairing. When paired, AirPods become "X person's AirPods," which is how they appear in your device list. You must first reset the AirPods to remove their previous settings, which will allow you pair your Airpods with your device. Afterward, you then use the AirPods to listen to audio.
AirPods don't employ iCloud Activation Lock and are more vulnerable to burglary than other Apple products. Someone might easily link your AirPods to other iPads or iPhones due to this without your consent as the owner of the Airpods.
It's effortless to link your AirPods to a separate iPhone or an android phone if they've been taken over by someone else. In the loading case, place the AirPods tap and hold the Setup button for some time. It's the same procedure you'd use to address a software issue with your AirPods.
Upon resetting, the AirPods have no longer linked to your Apple devices. However, they may still appear in your device's settings, although you have no control over who uses them.
What If My AirPods Are Stolen, But I Still Have My Case?
With the charging case, you might believe that nobody can use your AirPods because the larcenist needs to give back your AirPods to the case to pair them with a new iPhone; this makes sense.
They can, however, do so with any other AirPod case. In addition, AirPods can function with any charging case, provided it is an AirPods Pro case. As a result, if your AirPods are stolen, you can use a separate charging port to connect them to another iPhone. Likewise, they'll use a port they stole from someone else to connect to AirPods they acquired from different sources.
What If Only One Of My AirPods Was Stolen?
A single AirPod is unquestionably less valuable to a thief. However, if another AirPod is stolen from another person, they can still connect the AirPods using a charging port to create an entire set.
However, if one AirPod is stolen, one can still use the other to listen to audio convenient for the owner, who can salvage something. It, to the owner, is better than having to purchase a new set of AirPods. In addition, it makes them more economical.
Can I Track My Stolen Airpods?
When your AirPods are connected to one of your Apple devices, you can track them. It only occurs when your AirPods are removed from their case and within Bluetooth and device proximity. They must also have enough battery power to ensure that they are on and can be easily detected.
Find My app locates your AirPods and allows you to play a sound to aid in their recovery. It is more useful if you drop your AirPods within a convenient range, such as in the house, rather than if they were stolen.
However, it may still assist you in locating a thief in a small group of people within a given range. If your AirPods are not connected to the internet, Find My only displays their last known position and does not provide other tracking options.
Can I Track My AirPod Case Using Third-Party Apps?
Unfortunately, if your AirPods were in the case where they charged when they were stolen, you will not be able to locate the Find My because they do not maintain the connection to your device actively to secure the battery's life span.
You can protect your AirPods from falling into the wrong hands in the future by attaching a different device to your case, which would be essential for tracking. Using specialized apps, you can track your valuables with these accessories.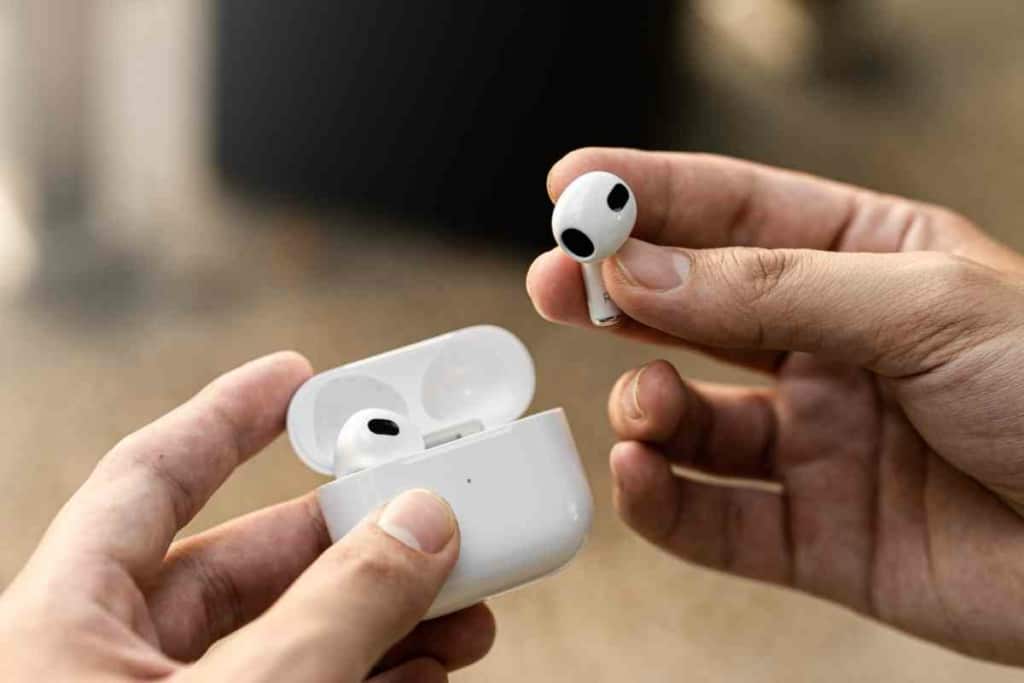 Is It Possible To Lock My Stolen AirPods?
When an Apple device, such as an iPhone, iPad, or Mac, goes missing, you can use the Find My app to ensure it is locked. It prevents anyone who finds your device from configuring and making use of it.
Linked with Activation Lock, it becomes an excellent way to deter potential thieves by making it extremely hard to use mugged Apple devices. In contrast, this is not the case with the AirPro because they lack the Find My app, which is used to prevent the larcenist from gaining access to them once they are in their possession. It, therefore, means that they cannot be locked in the case of theft.
What Should I Do If My AirPods Go Missing Or Are Stolen?
All AirPods use Bluetooth technology to connect to your iPhone or other devices and are heavily reliant on it. They are difficult to find on their own because they do not use a Wi-Fi connection.
Apple understands how frustrating it is to lose your Airpods, so they've devised a solution. To find your Airpods on a computer, go to the iCloud website or download the free Search the App Store for my iPhone app. Hopefully, if you had an iCloud account on the Apple device, you used to pair your Airpods.
You will need this and the Find My iPhone software to track down your misplaced AirPods. The Find my iPhone app now includes a Find my Airpods function that automatically tracks your Airpods.
What To Do If "Find My iPhone" App Can't Locate My AirPods?
You've got a problem if the "Find My" app shows your Airpods as a gray dot. It will just display their most recent position, where they were last connected to your iPhone or another device.
It could be several reasons; before you lose your Airpods, make sure you have the Find My iPhone software loaded. It is the greatest way to avoid losing your Airpods, so set it up as soon as you have them.
Your Airpods might be untraceable if the battery is dead; they can't be found. They could also be out of range. The range you can locate them is within a reasonable distance of the Apple device to which they are linked (Bluetooth range).
Finally, you may store your Airpods in the Airpods case. However, while they are in the case, you can't connect them to your device.
The only way to trace or find a lost or stolen iPhone is to use Find My iPhone. No other Apple service can locate, track, or otherwise identify your device for you.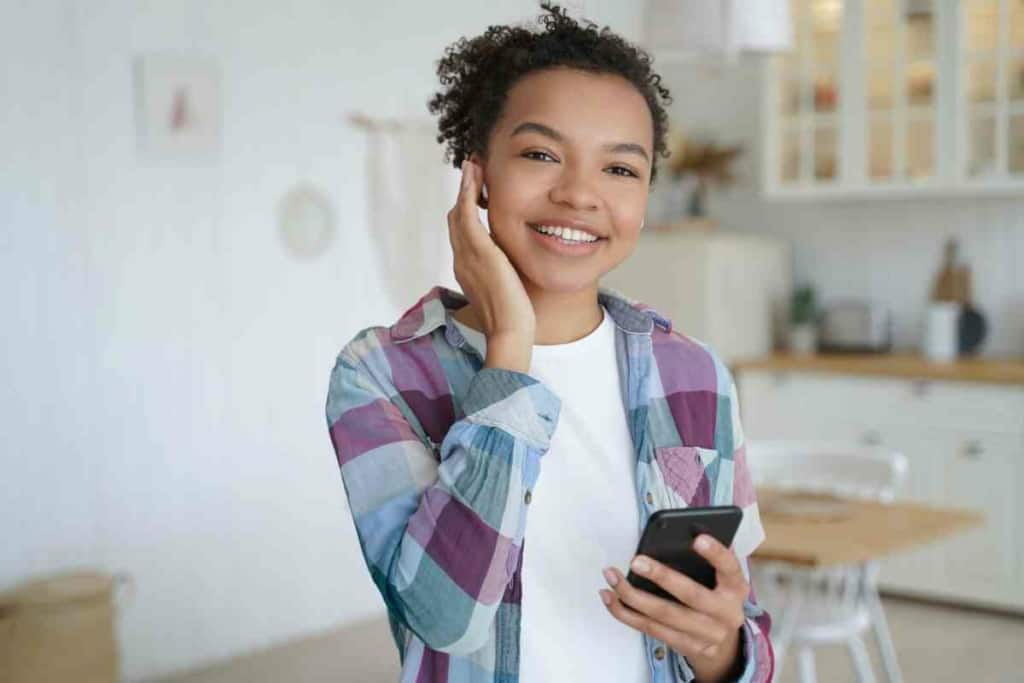 If Paired To An Android Phone, Can I Still Locate My AirPods?
No. Apple's Find My app will most likely not support Android devices; as a result, the app's functionality on Android will be minimal.
The partnership between Android and iOS devices makes sense. Still, because Apple's products are in an engulfed ecosystem, the ability of the Find My app on Android will be of assistance to Android users unless they want to play around with it.
Apple will need to make significant changes to its software and hardware policies to persuade Android users.
Closing Thoughts
Due to their high price and iconic appearance, AirPods have become something of a status symbol. However, those characteristics make them a tempting target for would-be burglars. AirPods don't employ iCloud Activation Lock.
If you already have the Find My app installed on your iPhone, iPad, or iPod touch that you use with your AirPods, AirPods Pro, or AirPods Max, Find My App can assist you in finding them.
You can't use Find My to find your AirPods, AirPods Pro, or AirPods Max if you didn't enable it before they went missing. AirPods, compared to other Apple products, are prone to theft.
Therefore, someone may easily connect your stolen AirPods to another iPhone; as a result, you would not locate your device if you didn't activate Find My iPhone before your AirPods went missing.
You cannot play a sound to help find your AirPods if you see a gray dot next to them on the map, but you can still get directions to the location where they were last connected. If your AirPods reconnect, you'll receive a notification on the iPhone, iPad, or iPod touch that you're using them with. Find My app is the surest method of tracking or locating a misplaced or stolen device.
Apple service is the only method that can help locate, track, or otherwise identify your device.
Closing Thoughts
While AirPods offer a premium listening experience and seamless integration with Apple devices, they are more vulnerable to theft than other Apple products. To minimize the risk of losing your AirPods or having them stolen, enabling the Find My app on your iPhone, iPad, or iPod touch is essential before any potential incidents.
Keep in mind that the Find My app is limited in its ability to locate AirPods, especially if they're in their case or have a dead battery. In addition, the app doesn't support Android devices, which means that AirPods paired with an Android phone cannot be tracked using the Find My app. To better protect your AirPods, consider using third-party tracking accessories and apps designed for valuables.
If your AirPods are lost or stolen, try using the Find My app to locate them and get directions to their last known location. However, if the app can't help, contacting Apple support or local law enforcement may be the next best step.
Always be cautious with your AirPods and take preventive measures, such as enabling the Find My app and using additional tracking accessories, to ensure their safety and your peace of mind.
For those using AirPods with non-Apple devices, exploring alternative methods for keeping track of your AirPods and securing them against theft is important. Android users, for example, can look for third-party apps and services specifically designed for locating lost or stolen Bluetooth devices.
Ultimately, while AirPods offer a convenient and high-quality listening experience, it's essential to take the necessary steps to protect your investment and keep your valuable earbuds safe from theft or loss.