Can You Use A Verizon Gift Card to Pay Your Bill?
If you're looking to save money and have a collection of gift cards to sift from or need to make sure someone close to you uses the money you give them to keep their phone on, I'm happy to be the bearer of good news.
Those gift cards I thought I'd never use come in handy when it gets down to it.
Can You Use A Verizon Gift Card to Pay Your Bill?
Verizon gift cards can be used as a payment card to buy Verizon mobile, home devices, accessories, and even pay your monthly bills. It can also be used to replenish a prepaid mobile plan or pay your mobile/home account's bill.
It's a simple process as the online payment system through Verizon's website has an included section for using gift cards to make a payment.
To pay your Verizon mobile or home bill with a Verizon gift card, you have a balance due.
To add a gift card as a payment option through My Verizon:
Go to 'Payment Options'

Enter the amount you want to pay and select 'Continue'.

Select 'add/edit payment method'. Then click or tap on 'Gift card' and 'Add method'.
The gift card should now be on the list of payment options.
If you're the more personable type, you can apply the gift card to your bill by phone.
Just call '#GIFT', #4438, on your Verizon mobile phone.
You can also call (800)876-4141 from any phone.
Interestingly enough, Verizon gift cards aren't the only type of gift card that can be used to pay your mobile bill.
Visa, MasterCard, or Verizon branded gift cards can be used to pay your Verizon bill or make purchases through the Verizon website or over the phone.
This opens a lot of payment options to Verizon subscribers and pay-as-you-go users.
It can also be a useful option for helping out family or friends to keep their phones up and running.
Can I Use Visa Gift Card to Pay Verizon Bill?
There are conflicting reports on whether Visa gift cards work as a payment method on the Verizon website.
Verizon Visa gift cards will most certainly work as a payment method.
However, it is not guaranteed that just any Visa or MasterCard labeled gift card will work.
The Verizon site says that it accepts any Visa, MasterCard, or Verizon branded card as a payment method.
Any difficulty paying through the website can be avoided by making a payment over the phone.
It's more common than you might think that people pay their bills with Visa gift cards or store-specific money cards like the Verizon gift cards.
Some companies give out gift cards as incentives.
Many people receive cards as actual gifts. Parents can even ensure the money they send their children is used where how they intended it to be.
The most common source of gift cards, however, is new deal promotions.
Verizon and many other retailers choose to participate in programs that offer gift card incentives to consumers in order to promote new device purchases and trades.
Some clever consumers have figured out that they can use these gift cards to pay their Verizon mobile bill.
With some of these gift card promotions ranging up to $400, you can have a few months of your bill already paid for. Another source of Verizon gift card credit is the in-store trade-in program.
Old phones are still good for credit, at least sometimes.
Can I Use My Verizon rebate to Pay My Bill?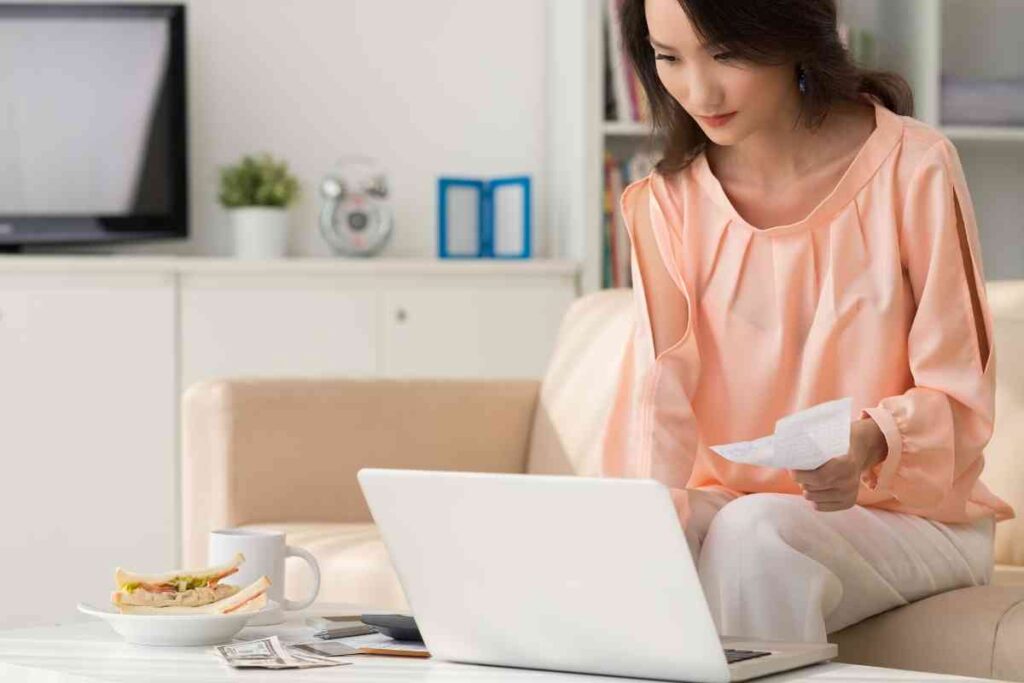 The rebate card offered by Verizon stores is a prepaid debit card that can be used to pay your bill.
The rebate can not be applied until you have received the card physically or through email.
Unfortunately, that means if your bill is due before you will receive the rebate, you will have to find a different way to make the payment.
Once the rebate card has been received by e-mail or through the mail, you can use it anywhere a debit card is accepted including Verizon.
All you'll need to do is type in the card number, security code, and the expiration date into the payment methods.
How Do I Redeem My Gift Card from Verizon?
Verizon gift cards can be redeemed online, over the phone, or in select Verizon retail brick and mortar stores.
This means you can use your gift card for products sold at Verizon stores or online and you can also apply it to your Verizon bill.
To use your Verizon gift card online:
Select the product or service you wish to purchase and click on the shopping cart icon.
Continue the checkout process and fill in any necessary prompts.
When it asks for a payment method, click the 'More Payment Options' selection.
Choose 'Gift Card'.
Entered the required information which can be found on the gift card or in the eGift card e-mail.
Confirm your selection.
Paying your bill with a gift card is very similar.
All you need to do is go to the Verizon website and select 'My Verizon'.
Navigate your way to the 'Pay Bill' page. Here you'll find the 'Payment Method' options.
Click on the 'More Payment Options'.
Choose the gift card option, then fill out the required information.
Gift cards will retain their balance until they have been used as a payment.
This means that if you enter a gift card as a payment method and you do not finish the check-out process, the gift card is not charged and retains its balance.
No balance is stored on your Verizon account unless it is applied to your bill already.
Can I Pay My Verizon Bill with a Vanilla Gift Card?
Vanilla Gift Cards are custom-ordered Visa cards.
Visa cards are among the accepted payment methods on the Verizon website.
This means that eGift cards or custom visa gift cards from Vanilla can be used on the Verizon website or in-store to purchase smartphones, tablets, accessories, or pay your bill.
eGift cards are easier to apply to online purchases, but Vanilla eGift cards should have a bar code included that can be scanned at the register.
As a side note, Vanilla gift cards do not have an expiration date.
This should not cause any complications using the cards for purchases.
Vanilla gift cards are also able to be added to your digital wallet.
This means that smartphone users with NFC payment applications like Apple Pay, Google Pay, or Samsung Pay can make use of contactless payment systems for their Vanilla gift cards at their local Verizon store or any other store that accepts Google Pay, Samsung Pay, or Apple Pay.
Vanilla gift cards can only be loaded with up to $500.
For most online purchases and bills, that's a big chunk of change.
It is possible to buy multiple gift cards if needed, but some stores may restrict the number of gift cards that can be used for one purchase.
There may even be extra restrictions due to the recent scams involving gift cards.
FAQ
Can I Pay My Entire Bill with a Gift Cards?
Provided that you have enough money loaded onto the gift card, you can absolutely pay your entire bill with it.
Visa and MasterCard are accepted by Verizon as well as Verizon Gift Cards.
Most gift cards have a capacity limit of around $500.
In some cases, you can use multiple gift cards to make a purchase or pay your Verizon bill.
Is It Better to Pay With a Gift Card or Credit Card?
Gift cards can not be used for recurring or scheduled payments.
As some bills can be reduced by signing up for scheduled monthly payments, it can be an advantage to use your bank debit card or credit card to make payments.
Gift cards do have the advantage of more direct control of what information you provide to Verizon retailers and any possible third parties who have access to their information.
However, not all gift cards are created equal.
Some types of cards are not accepted by every establishment.
The most widely accepted gift cards are either Visa or MasterCard branded.