16 Cool AirPod Cases (Great For Gifts!)
If you are looking for something unique for that person who is a big AirPod fan, there are several unique AirPod cases that will make for a great gift. When you are trying to come up with an interesting present for a person who seems to have everything, buying them a fun accessory, like a super cool AirPod case, can not only be fun but practical as well. Finding one that fits their personality and lifestyle will let them know you really thought through your purchase, and they'll appreciate the fact that their fancy AirPods will have some added protection housed inside a cool new case.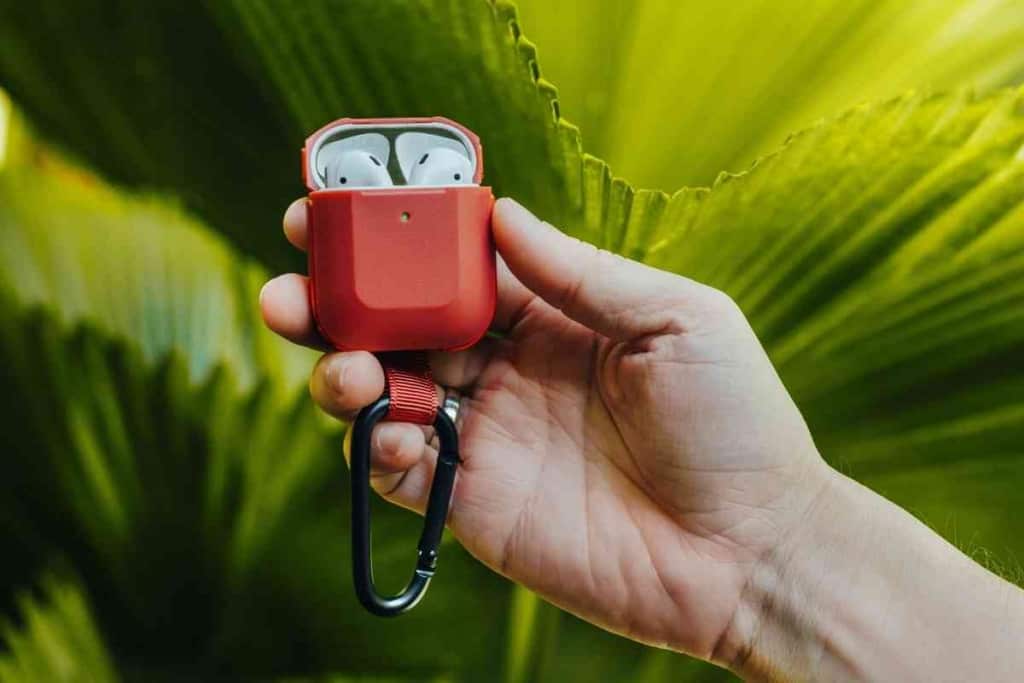 Table of Contents
What are the best AirPod cases?
The best AirPod cases to give as a gift are:
Otterbox
Nudient Thin
Catalyst Waterproof
RhinoShield Cap
ICARER Genuine Leather
LifeProof Eco Friendly
Elago
Native Union
KMMIN Waterproof
Coach Floral
Five Below Liquid Glitter
Qingqing Fun and Festive
Besoar Silicone
YomPlow
Spigen
Customized AirPod Case
We all have that person in our life that seems to have everything, right? Whether it's the latest gadget or the newest accessory, once it hits the shelves, they already have it.
Buying a gift for this person can be hard, but there are some super cool AirPod cases out now that will make for a great gift and leave them speechless. Plus, AirPods are not cheap and giving your friend or family member a personalized case will help protect their investment and make identifying their AirPods from everyone else's much easier.
I love gadgets and am a big fan of making them as personalized as possible. I also love to give gifts that are thoughtful and really speak to the person who is receiving them. The idea of giving someone a special case for their AirPods came to me a few months ago when I first saw how cool and fun AirPod cases have become.
Let me give you a quick tour of some of my favorite ones and see if any of these may be a hit the next time you need a really cool gift idea!
The 16 Coolest AirPod Cases That Will Make for Great Gifts
When AirPods first hit the market in 2016, they quickly became Apple's most celebrated accessory that they had ever created. And, if you've ever owned a pair, it's easy to see why.
AirPods really revolutionized the audio industry when they were first introduced. Being able to listen to music, have a phone conversation or engage in a meeting with headphones that need no wires is a terrific concept. These sleek little earbuds fit easily into your ear canal and are very discreet.
They are made of high-quality material and have a sound output that rivals some of the best-known headphones on the market.
But all of this excellence comes at a price. Depending on the make and model you prefer (and can afford), AirPods can run anywhere from $100 (for used or refurbished sets) to upwards of $500 (for specialty models).
So it stands to reason that people who invest in AirPods want to take care of them and keep them in the best shape possible.
AirPods are also easy to misplace or mistake for someone else's. Because the cases are all a basic white, it's common for someone to pick up another person's pair, not realizing that the AirPods they just snatched off a desk or countertop are not theirs.
Believe me, this happens more often than not.
All of this means that giving someone the gift of a cool AirPods case will not only protect their favorite accessory but will also help them to identify which ones are theirs when more than one pair are around.
It's also a super thoughtful way to let someone know you "get" their personality and the things that are important to them. Any gift that's personalized is always a bit more special than something that is not.
So, without further ado, here are some of my favorite AirPod cases for the people in your life…I think you'll like them as much as I do!
1. Otterbox
Most of us know the name Otterbox from the rugged and reputable phone cases they make…and now you can get an Otterbox for your AirPods as well.
Made from a durable exterior material, this case will not only look good, but will protect the AirPods inside it no matter what they are exposed to.
As with their phone cases, Otterbox offers a lifetime warranty on their AirPod cases and comes in eight different colors, ranging from a flat black to bright pink.
If you want a case that is rugged as well as attractive, Otterbox will most likely please anyone on your gift buying list.
Otterbox AirPod case covers retail for around $29.
2. Nudient Thin
Nudient makes cases that have the same look and feel that Apple has always strived for.
Simple and sleek…sophisticated and slim – these are all words associated with the best-selling
AirPods cases that are sold by Nudient.
Anyone on your gift list who really admires the way that Apple has created products that are minimalistic in design would love an AirPods case by this company.
Nudient makes cases that are protective, yet practical. Their design is simple and streamlined, which will definitely appeal to the person who loves the look and feel of Apple products.
Nudient Thins come in twelve different colors, all muted and attractive. The average retail price is between $29 and $35.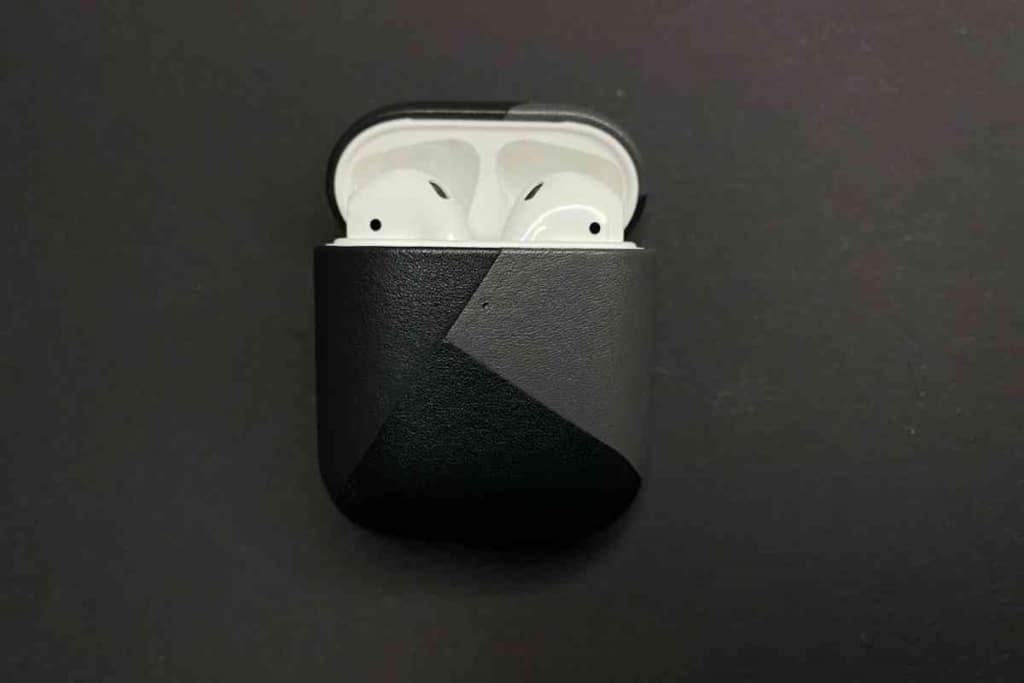 3. Catalyst Waterproof AirPod Case
Do you have a water lover on your gift list this year? If so, this case will be a hit when you present them with it.
Catalyst AirPod cases are great for keeping AirPods dry and protected when they may be in situations where water is involved.
Granted, the case won't make the AirPods themselves waterproof…but they'll keep water out, and that can sometimes be just as important, depending on where the person who owns them may be.
This soft, silicone shell will keep AirPods dry in up to a meter of water…perfect for a situation where they get dropped into a pool by accident or are left in a swim trunks pocket by mistake.
Catalyst AirPods cases come in three different colors and are competitively priced at around $28.
4. RhinoShield Cap AirPod Case Covers
For the person on your gift-giving list who likes a bit more pizazz and personality with their case, you may want to consider the RhinoShield Cap AirPod Case as a cool option.
The RhinoShield will allow for a bit more customization than the ones above, but will still provide some style to someone's AirPod case.
These case covers are made in England and come in twelve different colors, which can be mixed and matched as you wish. The shell is made from a polycarbonate plastic that is smooth to the touch and each case comes with a silver side handle that can be attached to a key chain or just makes for a convenient way to hold the case when needed.
RhinoShield also gives you the option of adding initials to the case, an added perk for your gift person if you really want to make their case extra special!
5. ICARER Genuine Leather Case
Here's a gorgeous option for when you want to give a gift that is elegant and durable at the same time.
ICARER products are well known for their timeless look and creative craftsmanship.
Made of genuine leather, these AirPod cases come in three colors and have a solid hook attachment that allows you to put the case on a keychain, or belt loop, or attach it to a briefcase or purse.
The leather case is hand sewn, meaning each product will be a bit different from the one before it.
If you want something classy and rugged, consider an ICARER AirPod case for your next gift.
The ICARER cases retail for about $40, a bit more pricier than the others on my list, but well worth it if genuine craftsmanship and trued leather is something you are looking for.
6. LifeProof Eco Friendly
Here's the perfect gift for the environmentalist on your list.
LifeProof makes AirPod cases that are not just eco-friendly…they are attractive as well.
The materials in these cases are made with ocean-based recycled plastics and are also packaged in recyclable materials as well.
The colors are also terrific. From muted greens to pale blues, you feel a sense of serenity and calm when you pick these cases up.
LifeProof makes other accessories as well and prides itself in LifeProof makes other accessories as well, and prides itself in giving back a percentage of all its profits to ocean sustainability projects and environmental activist groups.
The price is right as well. Retailing for only $13 per case, it's easy to see why so many people have chosen LifeProof to protect their AirPods and AirPod cases.
7. Elago
Anyone who wants a pop of color without a big price tag will consider scooping up a few of these Elago AirPod cases to have handy when it comes time to dole out some gifts at your next office party or birthday bash.
At only $7, these little silicone shells make for great protection for your AirPods as well as your budget. Though they are not waterproof, they will provide good support for anyone who tends to be tough on their AirPods and they'll look good at the same time.
Elago"s cases come in over fifteen different colors, most of them falling in the pastels and lighter hue palettes…lemon yellow, lime green, mint and lavender to name a few.
If you are looking for an inexpensive but fun gift idea, consider trying one of Elago's cases. At this price, you could even give more than one!
8. Native Union
We all have that one friend who just can't wait for sweater weather, right? Or…how about the one who won't be caught outside without their beanie on, no matter what the temperature might be?
Well, this is the perfect AirPod case for them!
Made from a knitted synthetic material, these AirPod cases are great for adding some personality and pizzaz to someone's favorite accessory, while also providing some protection at the same time.
Native Union's cases come in four different colors, each with the dual colors combined. The material is recycled and will appeal to anyone who likes feeling cozy and comfortable.
Unlike the others thus far on my list, the Native Union case isn't one that has a hinge opening. Rather, you just slide the AirPod case out of it and then open independently.
Though this is not the most protective case on my list of favorites, it is definitely one that will do the job of keeping someone's AirPods safe and it is cool enough that even your Millenial friends and family members will appreciate receiving this as a gift.
Native Union cases retail for $19.99 – a more than reasonable price for a more than reasonable case.
9. KMMIN Waterproof
Another great option for a person on your gift list that spends a good amount of time around water or participating in water sports, is the KMMIN Waterproof case.
Though the KMMIN line is a bit more limited in colors, it makes up for it in the case's durability, high rankings and the fact that it is fully waterproof, which means the person you give this case to will not have to fret if their AirPods end up getting wet.
These cases are made of a durable, non-toxic silica gel that is comfortable to carry in your hand or pocket and also comes with a detachable clip that can be used or removed as needed.
KMMIN cases cost around $20, making them very well within the normal price range of other cases on my list.
10. Coach Floral
The Coach name is synonymous with high-end and high-quality purses, shoes, wallets and leather belts. It makes sense they would also move into the accessory department.
We all have that person on our gift list that likes designer everything – from sunglasses to swimwear, that person wants an item that lets the rest of the world know they value and name-brand wear.
These Coach AirPod cases are adorable, and definitely feel like the other items the designer name represents.
The clear cases have a beautiful floral print on them and the Coach name clearly identifiable across the bottom of the silicon plastic.
At only $28, one of these AirPod cases would be the perfect gift for someone who wants name-brand items but you don't have it in the budget to buy them the name-brand purse.
11. Five Below Liquid Glitter
Five Below is known for being a great discount store that sells a bit of everything. Now, you can also get AirPod cases there!
Like one of my other favorites on this list, the great thing about the Five Below cases is that they are protective while also being super affordable.
At only $5 each, these little gems would make great party favor gifts, stocking stuffers or cute collectibles to hand out to business associates or clients as a small appreciation gift.
And the glitter patterns are too fun to pass up! With four different options to choose from, you can decide if you'd rather your gift accessory be bedazzled with pink, purple, gold or silver glitter.
These are $5. How can you pass that up?
12. Qingqing Fun and Festive
This brand has found the niche for making fun and flirty cases that will really speak to your gift receiver's personality.
The options from this Japanese company are many. All cases are made from a clear silicone and each design is created using a special UV paint process that means the paint is going to stay, regardless of how much banging, dropping or squashing this case takes.
There is also a detachable keychain clip that comes in either silver or bronze, depending on the pattern on the case cover.
Some of the adorable paint options include blue floral patterns, tie-dye, an ombre look, and miniature succulents, just to name a few.
Qingqing AirPod cases are usually around $8, so it makes them an attractive option for someone who is on a limited gift-giving budget, or wants to buy multiple covers to have on hand.
13. Besoar Silicone
Another great option for a gift is one of the Besoar silicone AirPod covers, especially if the person you are giving this to has an excellent sense of humor or a ton of creativity.
The Besoar cases are beyond cool and fun. Still made of a strong, protective silicone, these are statement pieces, made for someone who has a true love for a specific snack, or just loves to have a fun conversation piece wrapped around their AirPods.
Besoar AirPod cases come in so many fun styles, that it may be hard to choose a favorite. Is your gift receiver a big fan of Sour Patch Kid candy? How about Cheez-Its? Are they more of a Mac n Cheese fan, or perhaps A&W Rootbeer is their thing?
Whatever one of these cute and iconic AirPod case protectors you choose, they will definitely be a hit. And at only $10.99, they won't be too much of a hit to your budget!
14. YomPlow
For the person who needs a case that makes a statement and will be hard to miss, the YomPlow brand is a great and super fun option.
Though their price point is less than $10, these adorable AirPod case covers are made of a durable and flexible outer material that is surprisingly soft and supple.
But the real benefit to gifting one of these covers is the fun they bring to any pair of AirPods.
In designs that vary from cow prints to sunflowers, these protective covers are a joy to look at, while also keeping your AirPods safe and secure.
And like I mentioned before, the person you gift one of these cases to will never worry that they've picked up the wrong AirPods. No one will second guess which ones are theirs.
15. Spigen Tough Armor
This is the case to buy for the person in your life who is truly all about rough and tough adventure, and wants to take their AirPods with them wherever they go.
Spigen is notorious for making durable and long-lasting outdoor equipment, so it's no surprise they have gotten into the accessories market when it comes to devices we have learned that we don't want to live without, regardless of where life takes us.
These AirPod cases are made to look like something that the military might have ordered. They have a hard outer shell and are not only crush-proof, but water-proof as well.
The price is reasonable, especially for the materials that had to be used in order to make the Spigen case as durable as it is.
At $23, you will be giving a gift to your AirPod enthusiast that will let them know how much you care about quality and keeping their accessories safe.
16. Customized AirPod Case
Finally, for a truly personalized gift for someone who is definitely the most unique person on your list, consider making a case of your own.
These durable yet adorable cases can be custom-ordered when you send in a photo of the person or item you would like to put on the outside of the AirPod case.
You can customize both sides, or just one, and you can choose how many photos you want to send as well.
You can also add names or messages under the photos as well.
As with phone cases, these AirPod accessories will be made and shipped back to you within 2 to 4 weeks, so make sure you order with plenty of time to spare.
Depending on how many photos you want to use, these cases can cost anywhere from $23 to $35. But for something this unique, the price tag may definitely be worth it.