Where To Get A Better Phone Deal [Best Buy vs AT&T Store]
This post may contain affiliate links. As an Amazon affiliate, I earn from qualifying purchases.
It's become a habit that I change out my phone about every two or three years depending on what's come out.
Having to purchase a new device so frequently means that I've had to weigh the pros and cons of the best place to get my new upgrades.
For my location, that has usually meant buying a device with service from AT&T.
However, that doesn't mean I have to get my devices from an AT&T retail store or website.
While I could find a new device from a "mom and pop" phone dealer, I tend to look between the AT&T store and Best Buy.
Will I Get A Better Deal On A Phone At Best Buy Or An AT&T Store?
Best Buy has the most proactive deals for phone contracts and new devices in the market. They match prices, offer deals that aren't available everywhere, carry a larger on-hand supply, and are still considering an officially licensed AT&T dealer.
Both stores have access to an on-hand product, service activation, financing options, and protective/decorative accessories.
However, AT&T stores are much smaller and focused only on products that work with AT&T service.
They are also filled with commission salespeople, which means their personal checks are dependent on the number of devices and services they can sell.
Best Buy employees are offered bonuses for their efforts, but their checks are unaffected by which devices or services the customer chooses to purchase.
Over the years, I've found that Best Buy offers much more than an AT&T store.
In the next few sections, I'm going to go over a few concerns new phone buyers may have with purchasing their new device from somewhere other than their service provider's brick-and-mortar locations.
Is Best Buy an Authorized AT&T dealer?
Best Buy is an authorized AT&T dealer.
As a retailer, Best Buy is only rivaled by Amazon when it comes to authorized dealer partnerships.
They work with Apple, Microsoft, Google, LG, Sony, AT&T, Sprint, Verizon, and even more.
These partnerships are what make Best Buy one of the most diverse technology retailers in the US.
As a partner and authorized dealer, Best Buy can not only match the prices of AT&T's in-store and online deals, but they also offer both AT&T's protection plans and in-store protection plans.
Best Buy will even allow AT&T representatives to train Best Buy associates and help to inform customers on their current products and services.
That means that as a Best Buy customer, you can get the information you need about AT&T services and speak to an Apple or Samsung representative about their new devices like the iPhone 13 or the Samsung Galaxy Z Fold 3.
Is Best Buy a Good Place to Buy Phones?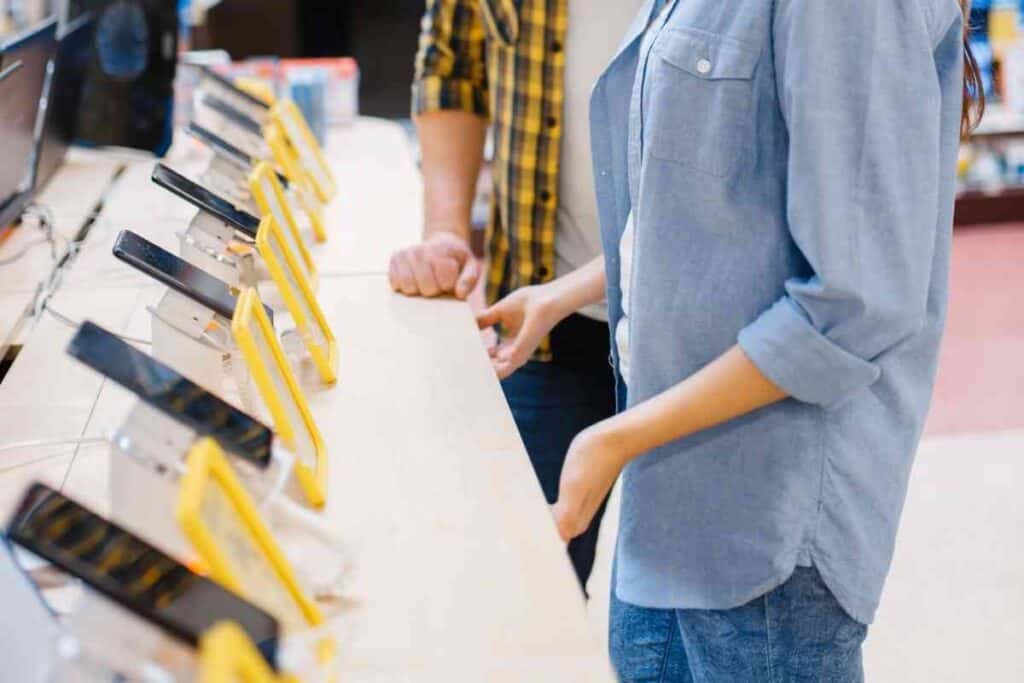 As I have purchased from both the AT&T store and Best Buy a few times, I can confidently state that there are more options and better offers at Best Buy.
The service plans are exactly the same as they are operated by AT&T, but Best Buy offers special financing for outright purchases.
This means you can buy a new phone from Best Buy over 18-24 months with no interest.
It also means you can finance your new smartphone and keep it separate from your monthly phone bill.
Best Buy even offers a mobile protection plan that works nearly the same as AT&T's device coverage.
The main difference comes down to where you will need to go in order to get your device replaced.
For those who don't have the best credit, Best Buy has a wider selection of unlocked devices that can be used with monthly Pay-as-You-Go services like Cricket.
From cheap smartphones at a price of $50 to the newest and best devices on the market that can go up to $2000.
Another benefit to purchasing new devices from Best Buy is the constant gift card/store credit deals that come with the purchase of promoted devices like the iPhone 13 or Samsung Galaxy S22 Plus.
For example, trading in an iPhone 11 or newer toward a purchase of the iPhone 13 can save you up to $900 at Best Buy.
You can also get a Samsung Galaxy S22 256 GB model for the price of a 128 GB model along with a $200 Best Buy gift card.
AT&T can offer some good deals with trade-in offers and leasing options, but Best Buy can handle those deals as well as offer their own.
Can Best Buy Activate AT&T Phones?
Best Buy has an authorized partnership with AT&T, Verizon, and Sprint. This means that Best Buy associates can offer service provider-specific deals, Best Buy deals, accessories, financing, and activation all at the same place.
Best Buy associates can help to activate your new phone, tablet, or mobile Wi-Fi services from AT&T, Sprint, or Verizon.
They can perform trade-ins, financial applications, and even help you pay your bill in-store.
As they can also work across the major service providers, this makes Best Buy the best place to shop around between the available services on the market and their devices.
You will be able to see what Sprint is currently offering as well as Verizon before deciding to purchase a new device or plan that uses AT&T services.
FAQ
Do Best Buy and AT&T stores sell the same devices?
Absolutely.
As an authorized dealer for AT&T, Best Buy can offer every device available at the AT&T store at the same price.
In my experience, Best Buy even keeps a larger supply of devices on hand.
This means that in some cases, purchasing from AT&T could mean waiting for an order to arrive while purchasing at Best Buy could mean leaving with a new device in hand.
Popular devices like the iPhone 12 or 13 are more likely to be kept in larger supply at a Best Buy location.
Can I use the Best Buy credit card to buy a new iPhone 13 from AT&T?
The Best Buy credit card can only be used and managed at Best Buy locations.
However as Best Buy is an authorized dealer for the major cellphone service providers, you can use your Best Buy credit card in a Best Buy location to purchase AT&T products and services.
The best part is that you won't miss out on any deals offered at your local AT&T store or online.
Just check the Best Buy website or ask a Best Buy mobile sales associate.
They will often go above and beyond to confirm your purchase with Best Buy.
Are AT&T and Best Buy financing the same?
Not at all. AT&T offers financing options that are paid along with your monthly service bill.
It can often last for around two years.
They even offer an upgrade option that allows you to trade in your device for a newer one with no extra purchase after a certain amount of payments have been made.
Best Buy's financing is a little more straightforward.
Once you apply, you will be given a set amount of credit that you can use to purchase anything available from a Best Buy store.
Depending on the price of the item you wish to purchase, you will be given the option to use your credit with no interest for a set amount of time such as 12-month, 18-month, or 24-month financing.
Smartphones over the price of $579 can be paid over 18-months interest-free.
One major difference between the two payment options is that a device purchased through Best Buy financing options belongs to you.
Devices purchased through AT&T's financing options are not your personal property until the total price has been paid in full.
If you have signed up for the upgrade program, you may need to pay a decent sum to finalize your purchase and remove additional costs.