Can I Use The Sonos One Like A Bluetooth Speaker?
This post may contain affiliate links. As an Amazon affiliate, I earn from qualifying purchases.
Sonos makes high-tech smart home speakers with excellent sound quality, but can you use the Sonos One as a standard Bluetooth speaker? Smart home speakers are becoming a standard in just about every home – with Sonos offering superb quality sound and features that rival the majority of its competition. However, a lot of Sonos One customers are wondering whether their speaker has Bluetooth capabilities.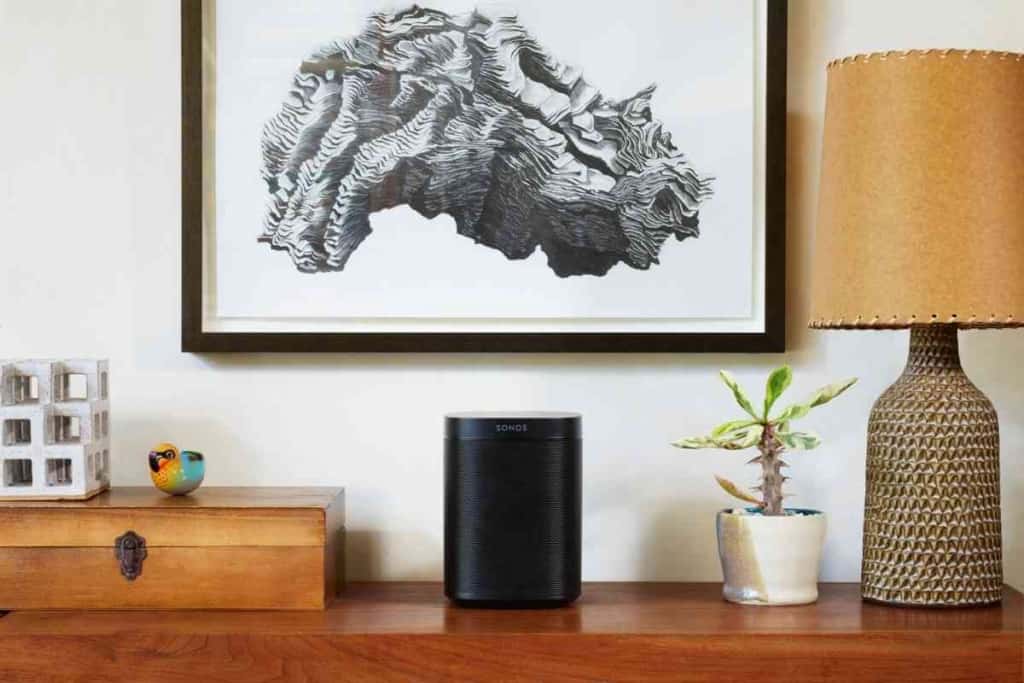 Table of Contents
Is the Sonos One a Bluetooth speaker? 
The Sonos One cannot be used as a Bluetooth speaker. This device is intended to be used as a smart home speaker, and it requires the internet to function – with a Wi-Fi or ethernet connection being mandatory to stream audio.
For years, smart home technology was an expensive luxury that very few people could afford. However, in recent years, we have seen a lot of smart home devices hit the shelves – with these handy gadgets becoming commonplace in homes across the country.
Sonos is at the forefront of designing quality speakers with smart capabilities and multi-room music features. The Sonos One is a particularly popular product from the manufacturer and it stands out in the world of smart home devices.
With a Sonos One in the house, you can connect all of your Sonos speakers to have multi-room audio in every room.
However, some users want to utilize their Sonos One as a Bluetooth speaker but are having trouble doing so, which begs the question of whether the device can be used in this way at all. To help you understand this further, we are going to take a closer look at whether the Sonos One can function as a Bluetooth speaker.
After extensively researching Sonos troubleshooting forums, I have been able to gather enough information to determine whether the Sonos One can be used as a Bluetooth speaker. My research has indicated that the Sonos One requires an internet connection in order to function.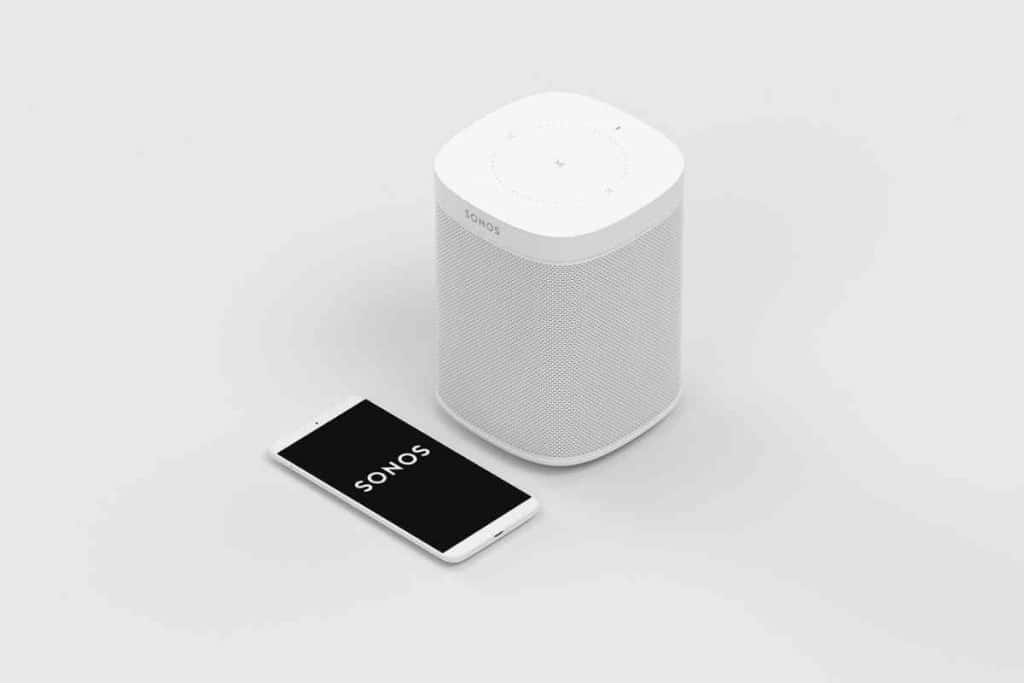 Does the Sonos One Have Bluetooth?
Sonos designed its smart speaker to be connected to all of its corresponding devices through an internet connection, which is why you will not be able to use your Sonos One as a Bluetooth speaker.
The main purpose of the Sonos One is for it to be a stationary speaker that you set up in your home. This is not meant to be a portable device that you take with you on the go to be used as a Bluetooth speaker.
With that being said, Sonos does make other speakers that do have Bluetooth capabilities. If you are looking specifically for a quality Bluetooth speaker from Sonos, the Sonos Roam is going to be a much better option for you.
The Sonos one requires an internet connection for the device to work. You will not be able to use the speaker if you are not connected to the internet.
Most people that have a Sonos speaker in their homes connect the device to their Wi-Fi network. This is the best way to use the Sonos One with as little hassle as possible. In addition, a stable Wi-Fi connection is going to be ideal if you have multiple Sonos devices connected in one house, as the multi-room feature will be difficult to use without it.
With that being said, the Sonos One does not necessarily require Wi-Fi. If you prefer to use an ethernet connection, you can wire a hard line to your Sonos One instead.
The speaker is designed with an ethernet input so that you have versatility in how you can connect the device to the internet. If your home has a poor Wi-Fi connection, an ethernet cable can actually provide a more reliable connection.
How to Connect Sonos One to Wi-Fi & Sonos System
Using the Sonos One with Wi-Fi is the most practical and popular way to stream audio on the smart speaker. Naturally, you will need to ensure that you have a stable Wi-Fi connection at your home before you can connect your Sonos One to the network.
If you have a Sonos device connected at home, then you have likely created a Sonos system already. This is a system that allows you to connect multiple Sonos products under your system to work together, which will be mandatory for multi-room music to work. If you have not set up a Sonos system, you can do this by following these steps:
Download Sonos App
Select 'Set Up a New System'
Select 'Add' (Continue)
Select 'Set Up Product'
You will then be prompted with some additional instructions to finalize the setup process. Follow the instruction carefully to ensure that your Sonos system has been properly configured. Once the system is set up, you can connect your Sonos One speaker by following these steps:
Open Sonos App
Select 'Settings'
Select 'System'
Select 'Add Product'
The Sonos One setup process will continue after you select 'Add Product' and you must follow the instructions displayed on your mobile device to connect your speaker to the system.
How Can I Play Music on My Sonos One?
The main reason why most people buy the Sonos One is that they want to have music playing throughout their home.
Although you can stream any kind of audio that you want through your Sonos One, music tends to be the main focus. With that being said, there are a few different ways that you can do this.
Stream Music on Sonos One Using a Mobile App
To play music through your Sonos One speaker, all you need to do is open up your favorite music app or streaming service. Just like you would with virtually any other speaker, open the application, select the music that you want to listen to, and hit play.
You must ensure that you are connected to the internet on both your mobile device as well as your Sonos speaker for this to work.
Stream Music on Sonos One Using AirPlay2
A key feature of Sonos speakers is that they have a multi-room music feature. If you own more than one Sonos speaker, you can connect all of them together to create a sound system that can reach your entire home.
One of the best ways to complement this feature is to utilize AirPlay2. Apple designed AirPlay2 with its latest update to let users stream across multiple devices, which is perfect for Sonos users. You can stream with AirPlay2 on your Sonos One when using an iOS product by following these steps:
Open 'Control Center'
Select 'AirPlay' icon
Select the Sonos products that are available
Alternatively, you can set up Airplay through the Apple Music app by selecting the 'AirPlay' icon to quickly connect Sonos devices.
Why Can't I Play Music on the Sonos One?
To play music through your Sonos One speaker, you must follow the above-mentioned steps to connect the device to the Sonos system, as well as your home's internet. The Sonos One speaker will not work if it is not connected to the internet and Sonos system.
If you have already gone through the connection process and are finding that the device is not playing music, there is most likely an issue with your Wi-Fi connection. You should test your home's Wi-Fi by connecting to the internet using another device.
If the Wi-Fi is not working, try to reset your router by unplugging it from its power source for 60 seconds and then plugging it back in.